There are some people who think there is no God, or that if he exists, he is irrelevant. Insurance companies are different. They refer to "acts of God." The Bible assumes God exists and reveals that he has enormous control over what happens here on earth
Lately, God has been tweaking nature, it seems. Last March there was that gigantic, 9.0 earthquake off the coast of Tohoku in Japan. Japan is prepared for earthquakes. But no one could be prepared for the monstrous tsunami waves that rolled up to six miles inland. They carried cars, ships, and houses along, burying fifteen thousand Japanese in a watery grave. When God sends an earthquake and tsunami of that magnitude, it tends to catch peoples' attention!
Here in the U.S. we have been astonished by destructive tornadoes. In April, a mile-wide tornado flattened Tuscaloosa, a city of 180,000 in Alabama. The tornado that devastated Joplin, Missouri and killed 116 in May was the deadliest U.S. tornado since 1953. By the end of May, 481 people had been killed by twisters in the U.S., the earliest in the season that number of fatalities had ever been reached.
In the upper Rocky Mountains, there has been a massive winter snowfall. The Army Corps of Engineers was planning on releasing large volumes of water from the dams along the Missouri River. Unaccountably, torrential rainfall in the spring completely altered the Corps' planning. Here is a report from the National Weather Service:
During the last half of May, the upper Missouri River basin received nearly a year's worth of rainfall. In addition, the estimated snow melt runoff was 212 percent of normal across the upper portion of the river system. These conditions resulted in Missouri basin reservoirs across eastern Montana and the Dakotas nearing their maximum levels. Record releases are ongoing at Gavin's Point dam located to the west of Yankton, South Dakota. Current releases are at 160,000 cubic feet per second (cfs). At this time releases of this magnitude are expect to continue well into August. The previous high release at Gavin's Point was 70,000 cfs in 1997.
I myself have witnessed the flooding along the Missouri River near Omaha and Blair, Nebraska resulting from this unprecedented release of water. I have seen farmland and farms flooded as far as the eye can see at places where no water should be visible. The devastation to farmers' property and facilities and land is unimaginable.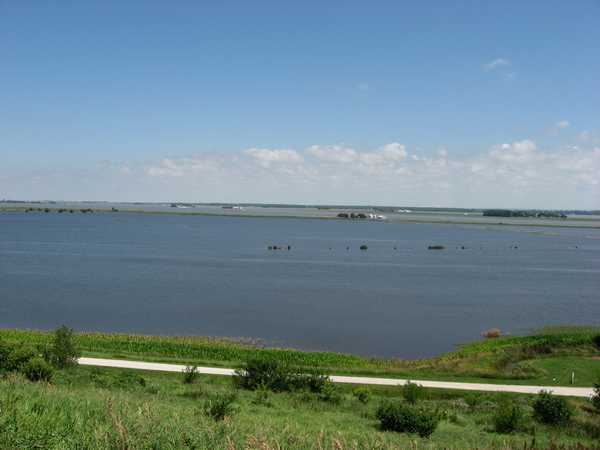 Flooded Missouri River Basin at Blair, Nebraska, July 4, 2011

Meanwhile, the southern portions of our country are in the midst of a drought. I have relatives who live in the Liberal, Kansas area who say they have received only two inches of rain since November of 2010. In east-central Kansas, we are in the midst of a heat wave and drought. Of the last 21 days, 14 have equaled or exceeded 100 degrees in temperature. On July 14, 2011, the National Oceanic and Atmospheric Administration (NOAA) put out its State of the Climate Drought report for June, 2011:
Based on the Palmer Drought Index, severe to extreme drought affected about 25 percent of the contiguous United States as of the end of June 2011, an increase of about 6 percent from last month....
Drought intensified in the Southern Plains, along the Gulf Coast, and into the Mid-Atlantic Coast, where rainfall was below normal for yet another month. USDM statistics rated 63 percent of the Southeast in moderate to exceptional drought at the end of June compared to 51 percent at the end of May. In the Southern Plains, the percent area in the worst category of drought (exceptional drought) rose from 28 percent to 47 percent. The drought was accompanied by numerous wildfires, dessicated soils, failed crops, and hot temperatures, with more than 4000 daily high temperature records tied or broken. In parts of the Southwest to Gulf Coast, this year's drought eclipsed the drought of record in terms of intensity as measured by the Palmer Hydrological Drought Index.
The time is coming when God will really tweak nature. Here is a portion of the vision that the Apostle John witnessed foreshadowing that which willl one day affect our world in reality:
8The fourth angel poured out his bowl upon the sun, and it was given to it to scorch men with fire. 9Men were scorched with fierce heat; and they blasphemed the name of God who has the power over these plagues, and they did not repent so as to give Him glory. (Revelation 16:8-9)
Yes, when God tweaks nature, it really catches our attention. What is God trying to tell the Japanese? What is God trying to tell us Americans? If we think it means we can go on as we have been, we are sadly mistaken. I believe God wants us to repent of our evil and our apathy toward Him. If we continue to ignore Him, He will only speak again. Louder. At what point will it be too late to respond?
(Scripture quotations taken from the
NASB
.)