The Rapture of the Church
The Blessed Hope
by WordExplain

"In My Father's house are many dwelling places ... I go to prepare a place for you."

-- Jesus, John 14:2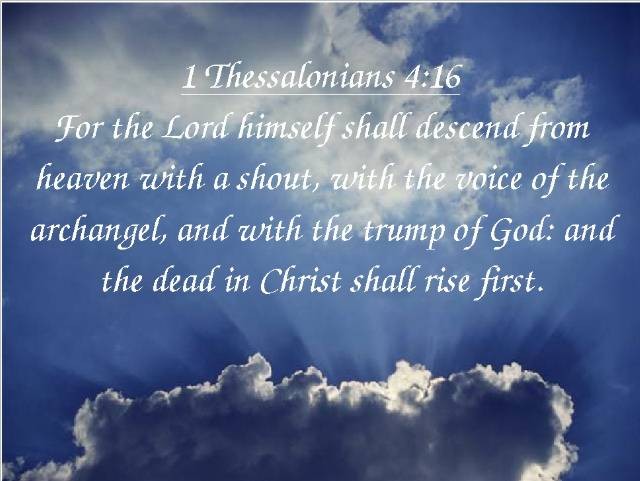 In this beginning portion of his first letter to the Thessalonians, Paul commends these Christians on their model deportment.

First

, they turned to God from idols.

Second

, they endeavored to serve God.

Third

, they made it their practice to wait patiently for God's Son from heaven. We should all so live! This waiting for God's Son amounts to waiting for the Rapture, which Paul would soon discuss (1 Thess. 4:13-18), seeking to allay their fears about believing loved ones who had died before Christ returned.

Notice that when Jesus returns, He "rescues us from the wrath to come." On the one hand, it is true that Jesus' coming rescues us from eternal judgment. But that is almost a tautology. The characteristic of someone who is in Christ is that he is not subject to judgment or condemnation. (See John 3:16-18; 3:36; 5:24; Romans 5:8-10; 8:1; 33-34.)

The more likely meaning is that Jesus' coming delivers believers from the coming wrath of the Tribulation Period. The Tribulation is the period of time when the present dispensation of Grace has ended. Right now God is patient toward the human race, "not wishing for any to perish but for all to come to repentance" (2 Pet. 3:9). But the Tribulation period begins "the Day of the Lord," described in catastrophic terms in 2 Pet. 3:10-12. It is the time when God will unleash the great fury of His wrath against a rebellious and unbelieving world. John the Apostle identifies this coming period of God's wrath in the book of Revelation: (Rev. 6:16, 17; 11:18; 14:10; 16:19; 19:15.) Praise God, we believers will be delivered from that terrible time of wrath that is coming upon the world (1 Thess. 5:2-5).
The Rapture of the Church
Prepared by James T. Bartsch
September, 2007

Published Online by WordExplain
Email Contact:
jbartsch@wordexplain.com
This study is based on, and the links reference the NEW AMERICAN STANDARD BIBLE®, Copyright © 1960, 1962, 1963, 1968, 1971, 1972, 1973, 1975, 1977, 1995 by the Lockman Foundation.